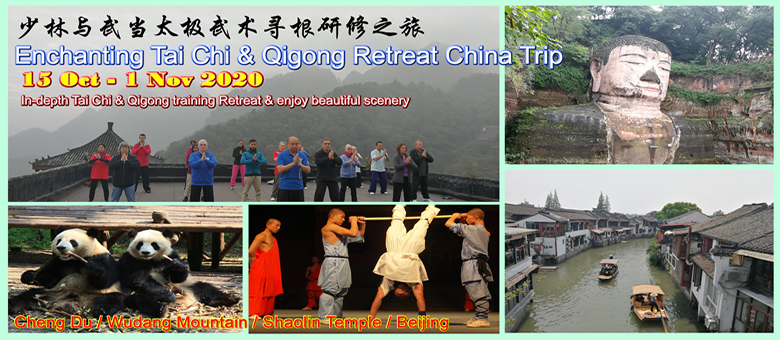 日期

时间 Time

训练 Activities

19.10.20

Arrival at Wudang Mountain & Travel up the mountain

After lunch visit the South Cliff Palace Temple. Evening Tai Chi & Qigong practice in the temple (1.5hrs).

20.10.20

6.30 – 7.30am
7.30 – 8.45am
9 – 11.30noon
11.30 – 12.30pm

12.30pm –

Morning Tai Chi & qigong Practice
Breakfast
Visit Purple heaven Palace Temple with Tai Chi practice
Daoist Vegetarian Lunch at temple

Set off to the Golden Summit (cable car up & walk down 2.5hrs)

21.10.20

6.30 – 7.30am
7.30 – 9am

9am –

Morning Tai Chi & qigong Practice
Breakfast

Check out of hotel and visit Princes Slope temple, and Carefree Valley.  Travel down to the retreat venue.

22.10.20

星期一

(早,午晚餐)

7.00-8.00

8-9.30– Breakfast

精讲Master training

9.30-12.00

14.30-17.00

12.00-14.30–  Lunch

 Sun Style Tai Chi Practice
Yang Style Tai Chi Practice

18.00 Dinner

19.30-20.30

Tai Chi Principles Lecture

23.10.20
7.00-8.00

8-9.00– Breakfast

精讲Master training

9.30-12.00

14.30-17.00

12.00-14.30–  Lunch

 Sun Style Tai Chi Practice
Yang Style Tai Chi Practice

18.00 Dinner

19.30-20.30

Lecture – Chinese Medicine theory – Energy meridians
Qigong
Note:The actual form and styles of the Tai Chi and Qigong forms to be practised will be based on the level and number of participants joining the trip. The programme and sequence of the Mind & body retreat could be subject to changes withour prior notice. We will try inform participants at the earliest possible opportunity.
Mind & Body Tai Chi Qigong Retreat:
This retreat consists of some of the most popular Tai Chi styles and routines being practised throughout the world, It will consist of routines suitable for beginner, intermediate and advance levels participants. The retreat will include Yang Style, Sun Style, Health Qgiong and Xing Yi Quan practice.
To Book:
Simply fill in the Online booking form and made deposit payment or download booking form fill andreturn it to
Deyin Taijiquan Institute, Unit E4 Stafford Park 15, Telford TF3 3BB