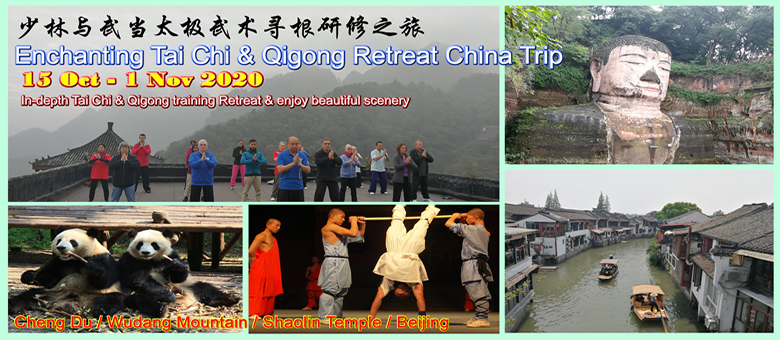 18 Days – 15th Oct – 1st Nov 2020
Early booking (before 31st Mar 2020): 18 Days – £1950.00 (includes international flights)
£1450.00 (without international flights)
Standard booking (after 31st Mar 2023) – £2095.00 (include international flights)
Cheng Du – Mt Wudang – Shaolin Temple – Longmen Grottos – Shanghai
Overview:

This enchanting Tai chi & qigong retreat on the legendary birthplace of Tai Chi, Wudang Mountain. Mind & Body Tai Chi and Qigong training at a retreat centre or hotel at the bottom of Wudang mountain followed by 2 days of spiritual pilgrimage to this sacred mountain to search the beautiful harmony of Man and nature. Also enjoyd some of the beautiful temples and scenery on the mountain.
We will then travel to the birthplace of Chinese Kung fu, The Shaolin temple and be inspired by the amazing martial skills of the kng fu monks. we will also go to Shanghai to exchange with experts in Health Qigong and Chengdu to see beautiful Giant Panda.
Along the way we will visit beautiful religious places, see the endangered Giant Pandas, visit the scard Wudang Mountain and spong Mountain to be inspired by the pure Aura and cosmos Qi surrounding these two mountains.
After a soul lifting and eye opening spiritual pilgrimmage with great and in-depth Tai Chi & Qigong retreat, we will travel to the new Pearl of the Orient, Shanghai to visit Shanghai Sport University, one of the best Sport University in China. We will indulge oursleves in th history of Chinese Martial arts through a visit to the Chinese Martial Arts Museum, followed by a information and educatinal exchange and learning of Health Qigong with the professors and masters in the University.
We will see the new and old of Shanghai, the Bund and old town and the colonial buildings that make Sahnghai a live history museum.
Visits in the trip include;
Cheng Du Le Shan Giant Buddha hill side Carving
Giant Panda conservation base
Wudang Mountain with sacred temples and Tai Chi Training
in-depth Tai Chi & Qigong retreat at a venue at the bottom of Wudang Mountain
Legendary Shaolin Temple and watch breath-taking demonstration by Kung Fu Monks
Song Mountain where we can see amazing scenery
The Bund in Shanghai with colonial buildings
Traditaionl Water town
visit the Shanghai Sport University
Chinese Martial Arts Museum
Learn Health Qigong from highly qualified Professors and Masters and possible exchange with University students and get a real sense of live in China
And more……….

Tai Chi and Qigong practice will be a daily event with Tai Chi Masters in China and Master Tary, one of the most renowned Tai Chi and Qigong masters in the UK and Europe. Training includes;
Sun Style Tai Chi and Yang Style Tai Chi
Health Qigong

This is going to be a trip with Culture, Spirit, Health and Inspiration that promise to inspire all!  This trip is organised by Deyin Taijiquan institute, a renowned organisation in the UK and Europe.
As we are also visiting lots of beautiful and magnificent scenery and places, it could be a good sightseeing opportunity for friends and family with no Tai Chi experience to join us too.
What you will get;
Improve your general health learn one of the most popular exercises in the world
raise the standard of your practice to higher level with highly respected teachers.
visit great places & meet people that you will remember and enjoy for years to come enjoy
a fabulous holiday with great food, great culture and great fun

Who can join the trip

All Tai Chi & Qigong practitioners, family and friends are welcome to join us on this fantastic trip.
The aim of this trip is to offer participants a variety of experiences, as well as visits to great sights, magnificent landscapes & diving cultural and spiritual landmarks, there are also excellent choices of Martial Arts, Tai Chi & Qigong training suitable for enthusiasts of all disciplines, levels and abilities.