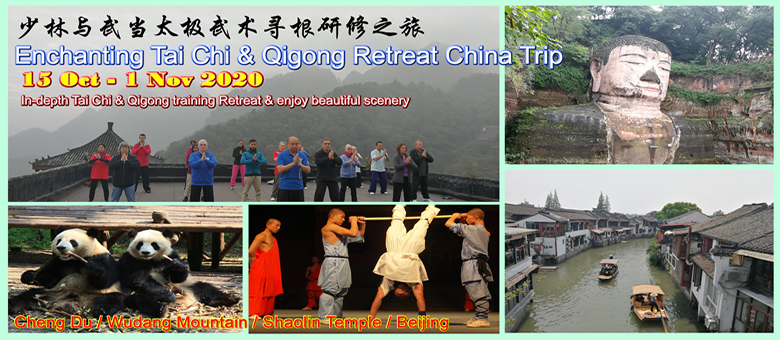 Enchanting Tai Chi Qigong Retreat & Cultural Trip Oct 2020
18 Days – 15th Oct – 1st Nov 2020
Early booking (before 31st Mar 2020): 18 Days – £1950.00 (includes international flights)
£1450.00 (without international flights)
Standard booking (after 31st Mar 2020) – £2095.00 (include international flights)
Cheng Du – Mt Wudang – Shaolin Temple – Longmen Grottos – Shanghai
Meals (B, L, D) indicate each day whether included
Day 1 – Thursday 15th Oct 2020
Depart for Cheng Du
Day 2 – (no meals included) Cheng Du
Arrive at Cheng Du, check into hotel and rest for the day.
Day 3 – B, L, D- Cheng Du
Set off 8.30am Tai Chi Training near Leshan (1.5hrs). after lunch visit Le Shan Big Buddha – Hillside Buddha statues.
Day 4 – B, L, Cheng Du
Check out of hotel (8.30am) and visit the Giant Panda Base to see one of the most endangered animals the Giant Pandas. Afternoon catch overnight sleeper train to Wudang Mountain.
Day 5 – L, D Wudang Mountain (stay on the mountain) 19/10/20
Arrive at Wudang Mountain Travel up the Wudang Mountain and after lunch visit the South Cliff Palace Temple. Evening Tai Chi & Qigong practice in the temple (1.5hrs).
Day 6 B, L, D Wudang (stay on the mountain) 20/10/20
Morning Tai Chi and Qigong training at Purple Heaven palace temple, Tai Chi & Qigong practice in the temple (1.5hrs).
After lunch, visit Golden summit (cable car up and walk down approx. 2.5 hrs. (optional) cable car down¥90RMB approx.)
Day 7– B, L, D Wudang Mountain 21/10/20
Morning check out of hotel and visit Princes Slope temple, and Carefree Valley, a valley with calming stream and beautiful lake.  travel down the mountain to the retreat venue for intensive training retreat for the next three days.
Day 8 – Day 9 – B, L, D Wudang Mountain in-depth Tai Chi & Qigong retreat 22 – 23/10/20
Enchanting retreat on Tai Chi & Qigong includes morning practice at 7am-8am, morning training 9.30-12noon, then afternoon training from 2.30pm-5pm. Evening free practice or lecture on theory and principles.
Enchanting training covers, Sun Style and Yang style Tai Chi, Health Qigong and Xing Yi Quan. Sets to be covered will depend on number of participants and their level of training (Beginner, Intermediate and Advance are all welcome).
Day 10 – B, D Wudang Mountain – Xiang Yang Old Town
Morning check out of hotel and, coach journey to Xiang Yang, one of China's most famous old town. Stay at Xiang Yang
Day 11 – B, D Xiang Yang Old Town – Deng Feng (home of Shaolin Temple)

Coach journey (5.5hrs) to Deng Feng, where the world-famous Shaolin Temple, legendary birthplace of Chinese Kung Fu is situated. Possible evening Tai Chi & Qigong training (1.5 hrs)
Day 12 – B, L, D Shaolin Temple
Visit Shaolin Temple and Song Mountain, the legendary birthplace of Chinese Kung Fu. And walk on one of the most sacred mountains in China and walk on the sacred Song Mountain.
Day 13 – B, D Longmen Grottos (world Heritage site)
Morning Tai chi & Qigong practice (6.30-7.30am). after breakfast travel to visit "Longmen Grottos" one of
the world heritage site that capture people's heart and soul. This grottos consists of thousands of hilside carving of Buddha statues with one big buddha carved in caves.
Day 14 – B, D Zheng Zhou – Shanghai
Check out of hotel in the morning (8am) and coach to Zheng Zhou train station for high speed train to Shanghai, the New Pearl of the Orient.
Day 15 – B, L, D Shanghai
Visit the Shanghai University of Physical Education, where the popular Health Qi Gong Wu Qin Xi and Ma Wang Dui were developed by some of China's most respected Qi Gong Masters & Professors. Morning visit to Chinese Martial Arts museum.
After Lunch Health Qigong training with masters in the University (2.5hrs) free evening to explore the local area.
Day 16 – B, D Shanghai
Morning Health Qigong Training (8.30am – 11am), travel to the traditional water town Zhu Jia Jiao and enjoy beautiful architecture and local delicacies at your leisure.
Day 17 – B, L, D Shanghai

Morning Health Qigong practice (7 – 8am). Visit the world-famous river bank the "Bund" and see some of the amazing changes Shanghai has gone through, followed by visiting Yu Yuan, Traditional residence of aristocrat beautiful building and lovely garden.
Day 18 – 1st Nov 2020
Departing for home
The itinerary is subject to change due to un-anticipated circumstances. In the unlikely event, when a sight,
activity or training is not available, we will substitute it with suitable alternatives without prior notice. Please also be aware that Train/flights and other transports also subject to change without prior notice.
Note: Please schedule one/two day at both ends of the trip in your holiday plan in case we have to change flight dates and time.
How to Book
Simply fill in the Online Booking below and return it to your instructor with a cheque (made payable to Deyin Event Management)