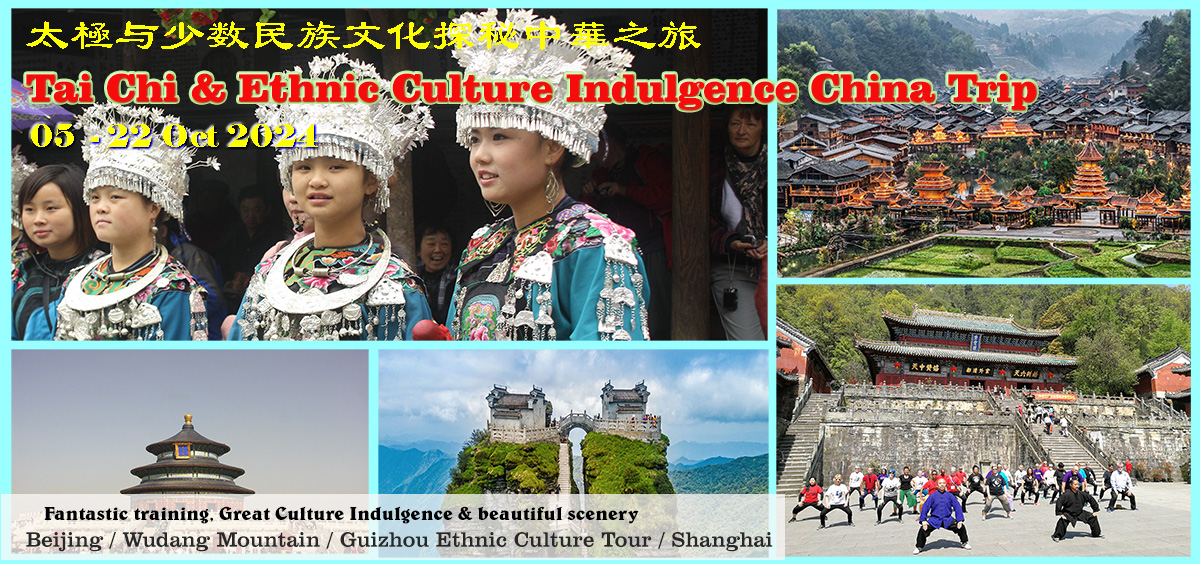 07-24 Sept 2024 / 18 days – £1895.00 – Early booking (before 29th Feb 2024)
£2095 – Standard booking (from 1st Mar 2024)
(Fees above Do Not Include international flights – either book yourself or we book for you – approx. costs £800.00 return)
Beijing / Wudang Moutain / Guizhou Ethnic Culture Indulgence /  Shanghai
Deyin / BHQA members – £95 off 
Trip Fees:
Trip Fees

18 Days
Not Including
International flights 

Twin Share

Early booking –
(before 29th Feb 2024) £1895.00

Standard booking –
(from 1st Mar 2024) £1995.00

International Flights
(Price is approximate)

Participants could book individually or we could book on your behalf

between
£700 & £850 (Approx.)

Single Supplement

£380.00

Peking Opera (Beijing)

£38.00

Gratuity

£100.00


(recommended)

Souvenir

As much or little as you want

Twin sharing & Single Room supplement

(hotels) – Participants could choose to share with someone they travel with or know. If you haven't got anyone in mind, we'll try to match two single persons into one room, however, if it can't be done for any reason, the single supplement will apply.

Gratuity – 


It is a custom to offer a gratuity for the hard work of drivers and guides. Rather than collecting it at each location, we will collect it once at the beginning of the trip in Beijing and pass it on to drivers and guides as we travel.
Participants from Europe, USA & other countries outside the UK will need to organise their own international flights, however, we will organise a free pick-up at Beijing international airport.
To book:
Register online  and either pay with Paypal / Credit Card or Bank transfer
Address:

For Bank transfer
For UK registrant only

China Bank Transfer
For Registrant outside UK

Tai Chi China Trip
C/O Deyin Taijiquan Institute (GB)
Unit E4 Stafford Park 15
Telford TF3 3BB
United Kingdom

Details to be confirmed

Bank: Virgin Money (Clysdale Bank)
Account Name: Oriental Culture Exchange
Sort Code: 82-11-07
Account Number: 6030 9540
IBAN: GB90CLYD82110760309540
BIC: CLYDGB21943

Bank: ICBC, China
Branch: Beijing Branch
Swift Code: ICBKCNBJ
Name of account holder: Ye Zhi Wei 
(please make sure the name must be in this format)
Account No: 6212 2602 0000 0679 577
Payment in UK Pounds / Euros / US Dollars
UK Pounds, Euro & Dollars can be made through Paypal or bank transfer.

Please note that card or PayPal payment will incur a 4% Admin Charge.
Delegates from outside the UK need to organise their own international flights, then give us the flight itinerary, our representative will meet you at Beijing International Airport.
Payment options: in full with booking or instalments as follow;
How to book and make payment
Simply fill in the Online booking form and made a deposit payment
Payment: 4% admin charge will be added for card or paypal payment.

Payment could be made in full at booking or by instalment as follow:
Instalments

Pounds

Bank Detail

Deposit
(non-refundable after 29.2.24)

£800.00

Bank: 
Account Name: 
Sort Code: 
Account Number: 
IBAN: 
BIC: 

31.05.24

£500.00

31.07.24

Remainder
Accommodation:
We will stay at mostly 3 stars hotels, please be aware that hotels in the mountains and small towns will be basic B & B due to their location.
For further information please contact
Mobile: 07779 582940                       Email: info@deyin-taiji.com
Return International Flight Tickets
Due to the constant changes in flight prices and time schedules, we are not able to offer trip prices including the flight costs. however, we will help participants to purchase flight tickets or advice what flights are suitable. flight tickets should be purchased at least 6 months ahead of the trip. we will inform participants when it's time to start looking for and purchasing the tickets.
Non-direct flight -one-stop
Depart from Heathrow possibly with one of the European airlines including Chinese or any available airlines
Anyone in the UK who wishes to fly with a preferred airline and arrive at a time that is out of the specified time span of arrival will be subject to a Beijing airport pick-up charge of £45

The flight tickets are usually non-refundable and non-transferable. We suggest travellers purchase travel insurance (check with the company for confirmation of coverage) to cover any unforeseen circumstance
The return flight tickets will be purchased on your behalf through one of our appointed travel agents (ABTA Registered)
What's included

What's not included

Seminar fees for all training

All accommodations – two people sharing. Hotels vary in standard in various locations, usually from B & B up to 3-star standard.

All internal transport (flights, coaches and train) in China

For most meals (breakfasts, lunches and some dinners) except the day of leisure and free activity, members need to sort out their own lunch and dinner.

First entry fees for all attractions listed

Return International Flight Tickets – Flight tickets

Visa application fees – Approx. £180.00 (apply individually two months prior to travel).

Travel and medical insurance (compulsory)

Drinks with meals & extra orders for the meal

Transports to and from airports in the UK and participants who book their own flights may be subject to an airport pickup fee

Personal expenses (gifts or personal necessities)
Cancellation & Charges
Participants who wish to cancel confirmed trip bookings will be liable for the following cancellation charges based on the time when we receive the notice of cancellation in writing.
A cancellation fee of £150 plus the below fees (where applicable, international flight tickets will not be included) will apply;
A. Refundable before 29th Feb 2024.
B. 12 weeks prior to departure date -50% of the total cost.
C. 10 weeks prior to departure date -75% of the total cost.
D. 8 weeks prior to departure date – 100% of the total cost.
Please note that admin charges for credit card / Paypal payments or bank charges for sending money into our account will not be refunded regardless of the time of cancellation.
Note: This Tai Chi and Cultural exchange trip is a non-profit-making trip organised by our partner Deyin Taijiquan Institute (GB), appointing a number of Chinese travel companies  & consultants to plan, manage and run the full itinerary in China. Deyin does not retain any money for profits and all fees (trip fees and flight costs) collected will be used totally to pay companies and consultants for the trip costs in China on the participants' behalf.